5 reasons why plant-based (hair and) beauty is better + and why you should make the switch!
Posted on February 26 2018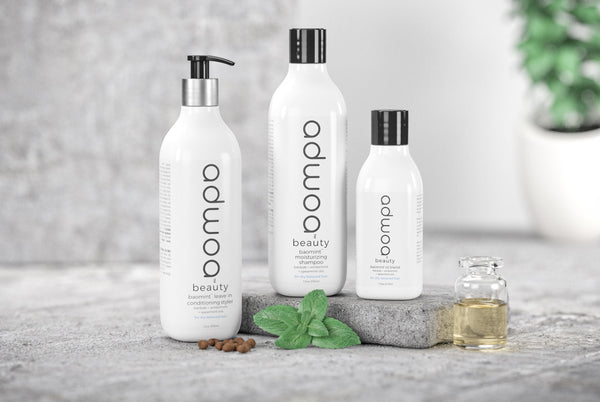 you may have heard of a plant-based skin care routine in order to naturally rid the skin of impurities quickly, and safely. for example, korean skin care routines are highly acclaimed throughout the world for their multi-step processes, consisting mostly of plant-based ingredients, to achieve clear and thriving skin. however, you don't have to be a nutritionist, to realize the benefits of the plant-based self-care routine. in fact, it's no secret that plant-based ingredients are the most vital components in ensuring prosperous hair, skin, and fitness. at adwoa beauty, we pride ourselves on our plant-based ingredients in our hair products, because we believe that plant-based beauty is better. if you aren't already aboard the plant-based hair care train, here are 5 reasons why you should make the switch.
1. they're gentler.
for babies or any folks with sensitive scalps, plant-based hair care is key. natural ingredients handle irritants much better than synthetic ingredients do. in fact, many plant-based hair routines can be geared towards addressing certain impurities that can be easily tackled by switching to a more natural routine.
2. they're multi-taskers.
while chemically infused hair products can deliver many different benefits through a multitude of products, plant-based hair care can do all in one. many natural or organic ingredients such as tea tree oil or peppermint can achieve stimulation of the scalp, as well as nourishment of the hair follicles and strands. as chemically infused shampoos and conditioners either often coat the hair too much, or strip the hair of the natural oils, if done correctly, plant-based hair care can provide just the right amount of balance for a healthy set of locks.
3. they add, not subtract.
many chemically infused hair products rid the hair and scalp of natural oils, which leaves a dry head of hair, and an endless cycle of breakage. a plant-based hair care routine, on the other hand, contains natural vitamins such as a, d, e, (and so many more!) that unclog the roots and nourish the scalp. through this, the moisture in hair is boosted and contributes to an overall healthy, happy glow.
4. they're timeless.
from the beginning of time, plant-based hair care has been prominent all around the world. from the ground to the market, these oils, butters, and many others have graced locks from generation to generation, all yielding the same results. the timelessness of plant-based hair care is rooted in both generationally acclaimed serious results, and in therapy. that's right! throughout time and history, plant-based hair care has been regarded as "therapeutic"; the perfect treat for continuous self-care.
5. they're cruelty-free.
well, not all plant-based hair care is cruelty-free. but adwoa beauty is. while we can't guarantee that all plant-based products will deliver for you, we can assure you that adwoa beauty will. in our carefully crafted hair ingredients, we made sure to provide the best ingredients that stimulate your scalp, satisfy your curls, and keep your scalp happy. at adwoa beauty, we don't need animal testing to know that our plant-based products can treat your locks and provide maximum nourishment. yep, it's that easy.
is using plant-based products important to you? let me know! - aj