melonberry™ hair milk leave-in conditioner
smooth, juicy and fruity
product details
the multi-benefit melonberry™ hair milk smooths, moisturizes, detangles, and softens without weighing down fine hair. 

our melonberry™️ proprietary blend comes from the seasonal and incredibly drought-resistant biological nature of the South African Kalahari melon plant. this allows for sustainable harvesting on a large scale, with only natural rainfall that has excellent moisturizing and skin/scalp conditioning properties. it contains up to 70% essential fatty acid like linoleic acid and includes oleic, palmitic, and stearic acid. exceptionally rich in natural vitamin e (2,800 mg/kg, both α- and γ-tocopherol) and plant sterols, known for their powerful antioxidant properties.
kalahari melon seed, aka wild watermelon, has excellent moisturizing and conditioning properties for hair and scalp. essential fatty acids, natural vitamin e, and plant sterols work in unison to promote cell regeneration, moisture retention, and skin barrier function + repair. 
red raspberry seed oil is non-comedogenic, antibacterial, calms inflammation & is a great source of vitamin a + e. high levels of phytosterols help to reduce cell water loss so your hair and scalp can retain hydration and moisture longer.  

strawberry seed oil is very rich in antioxidants and vitamin c, which protects from hair loss and sun damage. it also maintains skin and hair collagen, promotes hair growth, imparts shine, and protects + nourishes the scalp.
formulated for fine, curly hair. efficacious for all! 
Water (Aqua/Eau), Quaternium-91, Behentrimonium Chloride, Myristyl Myristate, Cetearyl Alcohol, Aloe Barbadensis Leaf Juice*, Cetrimonium Chloride, Diheptyl Succinate, Capryloyl Glycerin/Sebacic Acid Copolymer, Citrullus Lanatus (Watermelon) Seed Oil, Rubus Idaeus (Raspberry) Seed Oil, Fragaria Ananassa (Strawberry) Seed Oil, Simmondsia Chinensis (Jojoba) Seed Oil, Persea Gratissima (Avocado) Oil, Olea Europaea (Olive) Fruit Oil, Argania Spinosa Kernel Oil, Dehydroacetic Acid, Benzyl Alcohol, Fragrance (Parfum), Panthenol, Hibiscus Sabdariffa Flower Powder.
Customer Reviews
87
reviewers would recommend this product
Write a Review
I recommend this product
Good refresher
I don't have fine hair, I just wanted a product to use during the dry winter months when I need a moisture refresh between wash days. This product is perfect for that. It is very moisturizing with minimal build up. My only issue is that the sprayer clogged up after 2 uses. Please reconsider marketing this as a spray on product. It's really too creamy for that.
11/13/2022
LaGlendra H.

United States
I recommend this product
The Best Hair Milk
This is by far the best hair milk I've ever used. The smell isn't like any other just purely delicious. I use this product on my entire family including our 18-month-old and 4-month-old. We love adwoa beauty's entire line of products and I would recommend them to anybody ready for the perfect healthy hair journey. Thanks, your products are a special part of our family!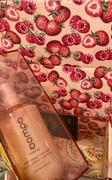 11/13/2022
Maya H.

United States
I recommend this product
Nice product
The product itself it excellent. It function the same as the Baomint and Blue Tansy leave-in conditioners but is much lighter. My only gripe is the spray nozzle. The product is waaay too heavy for the nozzle and it gets clogged. I just pour it in my hand. I probably won't repurchase unless the put it in a pump or squeeze container.
11/12/2022
Tiana T.

United States
I recommend this product
A fine haired curly's dream!
This formula is simply amazing. My curls are super hydrated and defined for days on end. The smell is refreshing. I pray this will always be available. Such a great product!
11/08/2022
Kristen W.

United States
I recommend this product
The smell!!!!
This conditioner was amazing, smelled so fresh and left my hair soft!
11/02/2022
Rencerq

United States
I recommend this product
Love this!
Smells wonderful and very good on my SUPER dry hair. This is the fourth adwoa product that I've used and I'm impressed by all of them. This one smells like candy and summer. Thank you for all the good stuff you are putting out in the world.
11/01/2022
Shawna B.

United States
I recommend this product
Love it but…
I love this leave in with one exception. The packaging. I generally do not like spray conditioners because they eventually stop working to come out of the bottle. And this was no exception. I'm eventually going to have to transfer the leave in to a hair because this flimsy pump is the pits.
10/31/2022
Maya

United States
I recommend this product
Couldn't love this more
I truly have enjoyed using this leave-in. I ordered as soon as it launched so I've had a few weeks with it and it's amazing. I have fine, medium to lower density hair and this soaks right into my strands without feeling weighed down. After I put my hair into twist after using this and and the sealing oil, I don't have any product residue while twisting either which lets me know it's truly penetrating! It also immediately softens my hair when using it to remoisturize my hair midweek. I use this along with the entire line they have as I truly believe companies formulate their products to go together. Definitely repurchasing!
10/30/2022
AMBER

United States
I recommend this product
GREAT PRODUCT; POOR PACKAGING
It smells BERRY good, and my hair was BONE dry and I decide this was the perfect time to test it. Worked great, however, it was a pain in the butt to use. It's 'cream to spray' is hardly ideal. The spray tip keeps getting clogged AND when I went to use it just now a second time, and the spray cap didn't work at all. I had to unscrew the cap and shake it out into my hand to get the product. What good is a great product if it's difficult to get out of the bottle? Sadly, can't recommend until they get new packaging. Also writing another review because mine wasn't posted and/or deleted? Plus this is an updated one with me using it a second time and it straight up not working. A shame because I am a fan of Adwoa beauty - best leave in conditioner, and a great deep conditioner.
10/28/2022
AMBER

United States
I recommend this product
gREAT PRODUCT; POOR PACKAGING
I was BEYOND excited to try this new product. Adwoa does it again with another great product, it the smell is strong and 'berry' fruity. I personally love it! What I *don't* love is the packaging. It's a cream to spray product and I really have to pump a few times before the goods come out. Also there is always cream build up at the hole of the bottle. So I can do a few sprays before having to wipe the tip clean and continue moisturizing. At the very least it works, I haven't washed my hair in a minute so it was bone try and when I put this to the test, NIGHT and DAY. My hair is LOVING it. I wish this could be packaged in a way that made for a easier use. It almost doesn't matter if the product is great, if you struggle to use it.
these made me think of you…