baomint™ deluxe trial kit - phase 1 collection
test your kink level
product details
enjoy our entire phase 1 collection in tsa friendly travel sizes on the go or as a gift for friends and loved ones.
the baomint™ collection which prioritizes a healthy scalp for steady hair growth from root to tip. happy scalp = happy hair

taking advantage of nature's goodies
allowed us to create a collection promoting intense moisture and elongation to deliver healthy + happy coils for all kinky-curly-wavy kinds. our baomint collection yields best results when used as a complete system. 
this kit includes:
1 (3.3 oz) baomint™moisturizing shampoo
1 (3.3oz) baomint™ deep conditioning treatment

1 (3.3 oz) baomint™ leave in conditioning styler

1 (3.3 oz) baomint™ protect + shine oil blend

1 (3.3 oz) baomint™ moisturizing curl defining cream
1 (3.3 oz) baomint™ moisturizing curl defining gel 
*packaging is 100% recyclable and refillable - vinyl pouch must be purchased separately* 
Customer Reviews
11/13/2023
Bariche R.

United States
10/12/2023
D. Valérie Graves

United States
I recommend this product
Soft Mane
1st time trying this brand. Thanks to @GlamTwinzTV on YouTube. I LOVE the Boamint!!! I was concerned about it being for "fine" hair; which I have thick hair. Well the moment I put the shampoo in my hair I knew that this was a good choice. The conditioner is wonderful.I have already started telling Everyone I know that I have added this to my rotation. Looking forward to trying other items in the line. If your hair is 16+ inches do no waste $$ on trail kit. Just buy the regular size because you will need it.
08/28/2023
Tasianee' S.

United States
I recommend this product
Baomint deluxe trial kit- phase 1 collection
My experience has been great thus far ! I can never go a day without someone asking what products did I use on my hair. I have noticed a huge difference with my hair since I've purchased. The moisture from this line is top tier. And also the lasting definition, softness, & shine. This line is definitely a staple !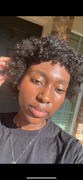 08/22/2023
Torrie F.

United States
I recommend this product
The Truth!!
I have been natural for 5 yrs now and since going natural I have used different products for my hair and for the the last 2 yrs. one specific line of products. I maintain getting my ends clipped, deep conditioning, steam treatments and all. Well a couple of months ago I noticed that my hair seemed to be "stuck in a rut" not retaining moisture and just dry as a bone. I'm still using the same products so I figured maybe they switched up the formula. Well now I'm looking for something different because I'm very serious about my hair, lol. I happen to stumble across a Tik Tok video of a young lady showcasing wash day with her beautiful daughters using Adwoa products and I was amazed with that 3 minute video. I instantly ordered but waited before using the products because I was nervous. But let me tell you, when I used it the first time I was instantly in love. I did a used the deep conditioning treatment and oil and sat under my steamer. When I rinsed it out, I was blown away because you literally see the moisture in my hair. I used the curl cream for my two strand twist out and I was so amazed by how soft my hair was. I thought that it wouldn't last because of the humidity here but my twist out lasted 2 whole weeks!! I am definitely sold on these products and telling everybody about them.
07/05/2023
Barbara D.

United States
I recommend this product
Trial Kit
I really enjoyed the products. I felt my hair was nicely moisturized.
06/19/2023
Gracious b.

United States
I recommend this product
Impressive results
I loved the boamint conditioning treatment so thought I'd give the whole line a go! Got the trial kit and layered all the styling products after rinsing out the deep treatment, let it air dry to firm a cast and since these products are on the heavier moisturizing side, it took longer to completely dry. The next morning, I smoothing the mane with the shine and protect oil and am so pleased with the results my hair is a mix of fine/medium 3b/3c low porosity and this style with this cocktail can last me about 3-4 days before next week day. Just a word of awareness: if you decide to layer the gel over the curl cream, you'll notice a white beading and seal form on top of the hairs, IT WILL MELT IN, don't wash out. It's part of the magic
05/02/2023
Barbara M.

Canada
I recommend this product
Service
After paying an extra $45 for one day delivery it finally arrived 10 days later. When I contacted the company no solution or refund was given. Not even a sorry!!!! Customer service is very poor. The products however are wonderful.
04/19/2023
Snb

United States
I recommend this product
Please do a fragrance free version
I'm not a fan of the smell, but I'm also not a fan of heavily scented products in general. I thought the smell would die down as the day went on but I still got wiffs of the odor throughout the day. I've used the products for a couple weeks and the results are decent. I'm not sure I like the results enough to put up with the smell though. I'll continue to look at other brands and fragrance free options.
03/16/2023
miss e.

United States
I recommend this product
adwoa boamint deluxe trial
for a first try, iit was ok! and used the system in the order described. boamint spells good! shampoo definitely lather well but didn't feel moisturizing to me. the other items didn't give me moisture or shine on my 3c-4a/b hair.
03/06/2023
Victoria V.

United States
I recommend this product
Don't like the smell :(
Love the texture and everything but the smell…made me stop using the product unfortunately…
these made me think of you…